Wise as Serpents, Innocent as Doves
American Mennonites Engage Washington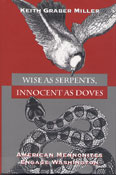 Author(s): Graber Miller, Keith
Series:
Imprint: Univ Tennessee Press
Publication Date: 1996-10-02
Status: Active
Available in Hardcover - Cloth: Price $37.00 | Buy Now
In July 1968, the Mennonite Central Committee (MCC) opened an office in Washington, D.C., for monitoring the actions of the federal government's various branches. Given American Mennonites' long history of non involvement in political affairs, this shift toward engagement was dramatic indeed. In this in-depth study, Keith Graber Miller shows how the church's distinctive traditions of pacifism, humility, and service have informed and shaped the nature of its activities in Washington.
Graber Miller argues that Mennonites have both influenced the national policy making debate and have themselves been influenced by their increasing exposure to it. As he shows, MCC's voice has proven especially strong on international issues, drawing on the insights of its overseas service personnel about conditions in other countries and the impact of U.S. policies abroad. At the same time, joining in the political arena has challenged Mennonites to move away from some of their earlier theological understandings, which produced a detachment from politics except to petition for exclusion from the draft, and toward a more engaged model whose contours are still emerging.
Wise as Serpents, Innocent as Doves not only explores the twentieth-century transformations among American Mennonites but illuminates the larger issues of religious lobbying in the nation's capital. Graber Miller suggests that the Mennonites have helped redefine what it means to be a lobbyist. Because the Mennonites' numbers are too few to make them a politically significant force, he argues, their only credibility in Washington lies in an astute and accurate analysis of how the world is and in the integrity of their witness to the truth as they see it. In delineating the Mennonite vision and strategy, this book offers a compelling new view of how religion and politics might constructively interact.
The Author: Keith Graber Miller is associate professor of Bible, religion, and philosophy at Goshen College in Indiana.