The Variety of American Evangelicalism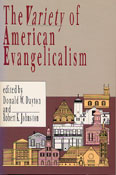 Author(s): Dayton, Donald W., and Robert K. Johnston, eds.
Series:
Imprint: Univ Tennessee Press
Publication Date: 0000-00-00
Status: Active
Available in Paper: Price $24.50 | Buy Now
Those labeled as "evangelicals" commonly are assumed to constitute a large and fairly homogeneous segment of American Protestantism. This volume suggests that, in fact, evangelicalism is better understood as a set of distinct subtraditions, each with its own history, organizations, and priorities. The differences among groups are so important that the question arises: Is the term "evangelical" useful at all?
This book attempts to enter as sympathetically as possible into the self-understandings of movements usually grouped under the evangelical umbrella. For each of twelve major traditions, a leading scholarly interpreter first articulates the group's theological orientation and then explores the relationship between that movement and broader "evangelical" issues and organizations. Contributors develop remarkably useful and diverse conceptual strategies for charting the complex evangelical landscape.
In crisp summary chapters, the editors draw differing conclusions from the many perspectives offered. Donald Dayton wants to abandon the category "evangelical" altogether. Robert Johnston sees the varied traditions as an "extended family" whose members embody common characteristics to greater or lesser degrees.
The Editors: Donald W. Dayton is professor of theology and ethics at Northern Baptist Theological Seminary, Lombard, Illinois.
Robert K. Johnston is provost and dean of the seminary and professor of theology and culture at North Park College and Theological Seminary, Chicago, Illinois.