Couldn't Have a Wedding without the Fiddler
The Story of Traditional Fiddling on Prince Edward Island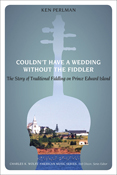 Author(s): Perlman, Ken
Series: Charles K. Wolfe Music Series
Imprint: Univ Tennessee Press
Publication Date: 2014-12-31
Status: Active
Available in Paper: Price $39.95 | Buy Now
This book is a comprehensively researched, densely annotated, well organized and clearly written labor of love. It is a traditional music geek's dream.
—Fiddler Magazine
Ken Perlman has published a very fine book, and at the heart of his research is a body of more than 150 interviews, primarily with musicians. This book launches the University of Tennessee Press's Charles K. Wolfe Music Series, and as the inaugural volume, Couldn't Have a Wedding without the Fiddler sets an excellent standard.
—Journal of Folklore Research
Couldn't Have a Wedding without the Fiddler has set an incredibly high standard and is a credit to Ken Perlman.
—The Living Tradition magazine
Canada's Prince Edward Island is home to one of the oldest and most vibrant fiddling traditions in North America. First established by Scottish immigrants in the late eighteenth century, it incorporated the influence of a later wave of Irish immigrants as well as the unique rhythmic sensibilities of the Acadian French, the Island's first European inhabitants. In Couldn't Have a Wedding without the Fiddler, renowned musician and folklorist Ken Perlman combines oral history, ethnography, and musical insight to present a captivating portrait of Prince Edward Island fiddling and its longstanding importance to community life.
Couldn't Have a Wedding without the Fiddler draws heavily on interviews conducted with 150 fiddlers and other "Islanders"—including singers, dancers, music instructors, community leaders, and event organizers—whose memories span decades. The book thus colorfully brings to life a time not so very long ago when virtually any occasion—a wedding, harvest, house warming, holiday, or the need to raise money for local institutions such as schools and churchs—was sufficient excuse to hold a dance, with the fiddle player at the center of the celebration.
Perlman explores how fiddling skills and traditions were learned and passed down through the generations and how individual fiddlers honed their distinctive playing styles. He also examines the Island's history and material culture, fiddlers' values and attitudes, the role of radio and recordings, the fiddlers' repertoire, fiddling contests, and the ebb and flow of the fiddling tradition, including efforts over the last few decades to keep the music alive in the face of modernization and the passing of "old-timers." Rounding out the book is a rich array of photographs, musical examples, dance diagrams, and a discography.
The inaugural volume in the Charles K. Wolfe American Music Series, Couldn't Have a Wedding without the Fiddler is, in the words of series editor Ted Olson, "clearly among the more significant studies of a local North American music tradition to be published in recent years."
A highly regarded banjoist, guitarist, teacher, and music collector, Ken Perlman previously published a collection of over 400 tunes calledThe Fiddle Music of Prince Edward Island: Celtic & Acadian Tunes in Living Tradition; he also produced a 2-CD set of field recordings for Rounder Records called The Prince Edward Island Style of Fiddling.. He has written several music instruction manuals now regarded as classics in their field, notably Clawhammer Style Banjo, Melodic Clawhammer Banjo, and Fingerstyle Guitar.