A Godsend to His People
The Essential Writings and Speeches of Marshall Keeble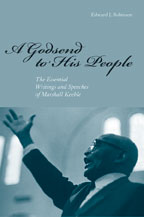 Marshall Keeble (1878-1968) stands as one of the Church of Christ's most influential and celebrated African American evangelists.  His impact was felt throughout the South and well beyond as he helped establish over two hundred churches and baptized approximately forty thousand individuals during his nearly seventy years of ministry.  His charismatic and dynamic speaking style earned him a devoted following.
Despite his impact on the religious culture of the South, there has been scant information available about this extraordinary individual-until now.  With the his new book, A Godsend to His People, Edward J. Robinson brings to light over forty years of Keeble's writings.
This collection shows the human side of Keeble, revealing his concern for the souls of his faithful followers and the pragmatic way in which he ran his ministry.  The sermons and other writings give great insight into the struggles of a prominent African American trying to navigate his way through the challenges of conducting his ministry in the segregated world of the Jim Crow South.
Robinson draws on a variety of sources in which Keeble was published, including the Gospel Advocate and the Christian Echo, as well as lectures Keeble gave to students at Abilene Christian College.
Through these pages, the reader will learn more about this articulate, passionate, and intelligent man.
A Godsend to His People is the first scholarly treatment of this evangelist and will appeal to those interested in the history of the Church of Christ and religious studies.
Edward J. Robinson is assistant professor of history and biblical studies at Abilene Christian University. He is the editor of To Lift Up My Race: The Essential Writings of Samuel Robert Cassius and author of To Save My Race from Abuse: The Life of Samuel Robert Cassius.