Yankee Moderns
Folk Regional Identity in the Sawmill Valley of Western Massachusetts, 1890-1920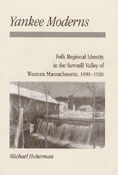 Author(s): Hoberman, Michael
Series:
Imprint: Univ Tennessee Press
Publication Date: 2000-08-25
Status: Active
Available in Hardcover - Cloth: Price $32.00 | Buy Now
In Yankee Moderns, Michael Hoberman explores the convergence of folk regional identity—a culturally based sense of place—with the social, economic, and psychic pressures that have come with modernity. Focusing on the oral traditions of a small place, the Sawmill Valley of western Massachusetts, he finds that the folklife of apparently isolated rural communities is far more dynamic and adaptable to change than is popularly supposed.
Deftly intertwining anecdote and analysis, Hoberman draws largely upon interviews he conducted with older residents of the Sawmill Valley. He uses their words to paint a vivid picture of everyday life there during the late nineteenth and early twentieth centuries—a time when small-scale farming and lumbering began to give way to the newer economic forces of industrialization and tourism.
As he studied these oral traditions, Hoberman discovered a high degree of self-consciousness and social tension, which he attributes to the region's post-agricultural economic woes and to its somewhat reluctant proximity to several Connecticut Valley immigrant enclaves. Yet, he asserts, even as their old agrarian ideals and one-time cultural uniformity became matters of distant memory, the residents of Sawmill Valley recognized these facts and coped quite competently with the changing conditions of their lives.
Rural New Englanders, Hoberman suggests, have too long been portrayed as backward-looking and dangerously homogenous in their makeup—crotchety exceptions to modernity's nearly worldwide sweep. This insightful work, with its emphasis on instability and adaptation as persistent features of the folk region, does much to lay that stereotype to rest.
The Author: Michael Hoberman teaches English at Greenfield Community College in Greenfield, Massachusetts, and  also works as a visiting lecturer in American Studiesat Utrecht University in the Netherlands.