The World War I Memoirs of Robert P. Patterson
A Captain in the Great War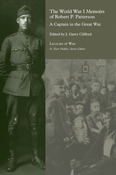 "This memoir illuminates key aspects of the war experience: the enthusiasm for fighting, tensions with officers, tedium with regard to noncombatant work, the variety of trench experiences, the sharp learning curve that the army underwent on the ground, and the confusing nature of combat for ground troops. As the centennial of the war approaches this well-annotated memoir that connects Patterson's individual experiences to the larger U.S. experience of the war will appeal to general readers and specialists alike."  —Jennifer D. Keene, author of World War I: The American Soldier Experience
__________________
A journalist once called Under Secretary of War Robert P. Patterson "the toughest man in Washington" for his fervid efforts in managing U.S. mobilization in World War II. The World War I Memoirs of Robert P. Patterson: A Captain in the Great War recounts Patterson's own formative military experiences in the First World War. Written in the years following the conflict, this is a remarkable rendering of what it was like to be an infantry line officer during the so-called Great War. Patterson started his military career as a twenty-seven-year-old, barely-trained captain in the American Expeditionary Forces (A.E.F.). He was part of the 306th Infantry Regiment of New York's famous 77th "Statue of Liberty" Division from July to November 1918. In this detailed account, Patterson describes in understated yet vivid prose just how raw and unprepared American soldiers were for the titanic battles on the Western Front. Patterson downplays his near-death experience in a fierce firefight that earned him and several of his men from Company F the Distinguished Service Cross. His depiction of the brutal Meuse-Argonne battle is haunting—the drenching cold rains, the omnipresent barbed wire, deep fog-filled ravines, the sweet stench of mustard gas, chattering German machine-guns, crashing artillery shells, and even a rare hot meal to be savored.
Dealing with more than just combat, Patterson writes of the friendships and camaraderie among the officers and soldiers of different ethnic and class backgrounds who made up the "melting pot division" of the 77th. He betrays little of the postwar disillusionment that afflicted some members of the "Lost Generation." Editor J. Garry Clifford's introduction places Patterson and his actions in historical context and illuminates how Patterson applied lessons learned from the Great War to his later service as assistant secretary, under secretary, and secretary of war from 1940 to 1947.
J. Garry Clifford, a professor of political science at the University of Connecticut, is the coauthor of America Ascendant: American Foreign Relations since 1939 and The First Peacetime Draft, as well as the coeditor of Presidents, Diplomats, and Other Mortals.