Wonderful Weeds and Various Varmints
The Natural World in Our Backyards and Beyond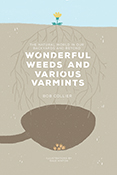 Immersed in a world of sprawling concrete and hyper-advancing technology, we can begin to see the natural landscape as a thing of the past. All the more reason, suggests Bob Collier, a self-professed nature lover, to set out on the often- unrecognized bridge that still connects human beings with their natural surroundings. In Wonderful Weeds and Various Varmints, readers can walk through a myriad of stories as if on a leisurely stroll through the seasons. Each chapter in this collection revives articles from Collier's beloved, syndicated "Nature Notes" column written for East Tennessee's Shopper News. From birding with his spouse to sharing family lore from childhood, Collier by turns informs and enchants as we learn his way of looking at the world.
In the section on spring, he reflects on his time gardening with his grandmother, birding in the mountains, and looks at the gifts the season brings as an opportunity to meet and appreciate them. Summer launches a warmer section of stories as Collier discusses the sounds of summer, firefly watching, and the fascinating insects all around. The colors of autumn are described with admiration and wonder as Collier also relates stories about a sneaky groundhog, creatures of the night, and the marvels of pumpkin season. The book concludes with the winter season as Collier describes chilly outdoor adventures and a rejuvenating crystalline view of the world.
Bob Collier was a general surgeon practicing at St. Mary's Hospital (now CHS Tennova) in Knoxville, Tennessee, for some 40 years until his retirement. His column, which originally began as a bird-watching column and later expanded to cover other aspects of natural history, has always had a focus on sharing the wonders of the outdoors with his readers and encouraging them to get out the door.