Women Called to Witness
Evangelical Feminism in the Nineteenth Century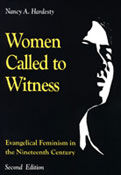 Author(s): Hardesty, Nancy A.
Series:
Imprint: Univ Tennessee Press
Publication Date: 1999-08-16
Status: Active
Available in Paper: Price $15.00 | Buy Now
"This briskly written study is packed with useful information on the history of nineteenth-century social reform in general, and the role of evangelical men and women in the formation of an articulate women's movement in particular."—Grant Wacker, The Christian Century (on the first edition)
In Women Called to Witness, Nancy A. Hardesty locates the roots of American feminism in the evangelical revivals that emerged during the Second Great Awakening of the early nineteenth century. She thus challenges the conventional wisdom that any movement for women's rights is a secular one because religion is inherently oppressive toward women.
First published in 1984 and now revised and updated, this book focuses particularly on the followers of Charles Grandison Finney, an evangelist whose revivals spread from upstate New York eastward to New England and westward to Ohio. The author shows that in Finney's brand of revivalism, personal and social salvation were inseparably linked, and thus the evangelical strategies used in spreading the Christian gospel were readily adapted to various social crusades, including temperance, abolition, and eventually suffrage. Hardesty shows that such leaders as Frances Willard, Sarah and Angelina Grimké, Lucy Stone, and Elizabeth Cady Stanton all had links to the Finneyite revivals. All were active in the various reforms the revivals spawned.
In exploring these women's lives and their religious involvements, Hardesty demonstrates how bonds of sisterhood were forged and how those bonds nurtured the quest for equality in the home, the church, and society.
The Author: Nancy A. Hardesty is associate professor of religion at Clemson University. She is a founder of the Evangelical and Ecumenical Women's Caucus.