Wild Games
Hunting and Fishing in North America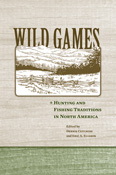 Author(s): Cutchins, Dennis, and Eric A. Eliason, eds.
Series:
Imprint: Univ Tennessee Press
Publication Date: 2009-11-30
Status: Active
Available in Hardcover - Cloth: Price $48.00 | Buy Now
"Wild Games reveals the intricate customs, prohibitions, and symbolic meanings that surround taking animal life for Finns, Basques, Native Americans, Kazakhs, and other contemporary cultures. Writings on the hunt that ignore these practices, and the ways in which they are tied to both individual and collective identity, will now risk being woefully simplistic."—Boria Sax
Humans understand at least some of what it means to be human, both literally and figuratively, in reference to wild animals. Our relationships with wildlife have traditionally been expressed in terms of hunting; more recently, these relationships have also been manifest as efforts to prevent hunting. Hunting and fishing traditions are, in fact, under fire by critics at the same time that they are receding of their own accord—perhaps becoming even more endangered than any of the pursued animals. These traditions form the major focus of Wild Games, a new collection of essays that looks at the folklore and culture of various hunting and fishing practices, documenting the central importance of hunting to many rural societies, even in modern times.
Editors Dennis Cutchins and Eric Eliason contend that hunters often don't perceive of themselves as separate from the wild but, rather, identify strongly with a natural order—integrated with, rather than standing apart from, the fluctuation of ecosystems. And they frequently don't see wild animals as "set apart" but understand them as food sources, competitors, friendly rivals, and even equals.
Featuring contributions from a variety of distinguished scholars and writers—including an essay by the noted folklorist Simon Bronner on the culture of the deer camp, a fascinating account of coyote tracking by Eric Eliason, and an examination of the role of gender in outdoor life by Diane Humphrey Lueck—this book shows how the traditions of hunting and fishing tend to bind hunter and prey into ancient patterns that often defy contemporary culture.
Dennis Cutchins is associate professor of English at Brigham Young University. His articles have appeared in Western Folklore, Literature/Film Quarterly, Journal of American Culture, and Florida Anthropological Quarterly and he is the coeditor of two upcoming books on adaptation studies.
Eric A. Eliason is associate professor of English at Brigham Young University. He is the editor of Mormons and Mormonism: An Introduction to an American World Religion and author of the forthcoming Black Velvet Painting: Understanding the World's Most Maligned Art.