What Are the Animals to Us?
Approaches from Science, Religion, Folklore, Literature, and Art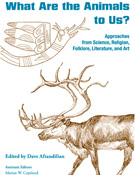 Author(s): Aftandilian, Dave, Marion W. Copeland and David Scofield Wilson, eds.
Series:
Imprint: Univ Tennessee Press
Publication Date: 2006-09-01
Status: Active
Available in Hardcover - Cloth: Price $45.00 | Buy Now
From the first woolly mammoths painted in exquisite detail on Paleolithic cave walls to contemporary depictions of anthropomorphized mice as heroes of animated films and fiction, animals have played crucial roles in human cultures around the world. In What Are the Animals to Us? scholars from a wide variety of academic disciplines explore the diverse meanings of animals in science, religion, folklore, literature, and art.
The contributors focus especially on analyzing cultural products about animals. The chapters in the first section of the book, "From Totems to Tales," interpret folklore of cats, foxes, snakes, and frogs in various cultures, while the chapters in the section on "Real Toads in Imaginary Gardens" concern themselves with literary and historical representations of reindeer, wild birds, tigers, and other animals. The chapters in "Holy Dogs and Scared Bunnies" consider the roles of animals in art and religion. In the section on "Ethics, Ethology, and Konrad Lorenz," the contributors evaluate the legacy of this co-founder of the science of animal behavior in the light of recent revelations about Lorenz's National Socialist past. Finally, an extensive afterword offers theoretical and practical ways in which readers might better understand animal others in their own right, and discusses the ethical implications of such an understanding.
Accessible and lively, What Are the Animals to Us? is a uniquely wide-ranging and well-written interdisciplinary introduction to the emerging field of animal studies that offers not just novel approaches to the study of what animals mean to people but also fresh insights into a broad range of topics, from environmental history to animal behavior, postmodern art to Christian theology.