Virginia's Western Visions
Political and Cultural Expansion on an Early American Frontier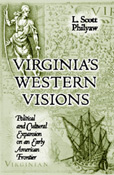 Author(s): Philyaw, L. Scott
Series:
Imprint: Univ Tennessee Press
Publication Date: 2004-09-30
Status: Active
Available in Hardcover - Cloth: Price $33.00 | Buy Now
"Once all the world was Virginia"—an exaggerated truism to be sure, but in the early eighteenth century, there seemed no limit on the Old Dominion's possibility for growth, particularly in the eyes of the state's Tidewater elite. Wealthy tobacco barons monopolized thousands of acres along Virginia's frontier, and early leadership, including William Byrd, Thomas Jefferson, and George Washington, saw the generous possibilities in the expanse of lands to their west. In 1705 Virginia planter and historian Robert Beverly confidently foresaw the day when Virginia's settlements would reach "the California Sea."
In Virginia's Western Visions, L. Scott Philyaw examines the often tumultuous history of Virginia's westward expansion. Land, the foundation to tobacco cultivation and slavery, obsessed early Virginians. Land acquisition was also a necessary step in dispossessing Virginia's native inhabitants, replacing them with Europeans and Africans.
The relationship between Virginia's Tidewater elite and the hinterland was never simple, however. The backcountry's economic potential was undeniable, as was the possibility for colonization; but elites feared the threat of Native American nations, and the western border was consistently a source of unrest. For many English colonists, the inland wilderness was terrifying, and Philyaw argues that attitudes toward the different peoples of the frontier—Native Americans, French Catholic villagers, and German and Ulster-Scot immigrants—shed light on the cultural and ethnic assumptions of the architects of the American republic.
By the early nineteenth century, the optimism of the Revolutionary generation had faded. New western states competed with Virginia for markets, settlers, and investments, and wealthy planters began abandoning the Old Dominion, taking their portable slave wealth with them. As the War of Independence came to an end, an independent Virginia actually began losing territory; the war-weary and impoverished state could no longer control the western lands its leadership had worked so tirelessly to acquire. Leaders now turned to the new national government to accomplish their aims of creating a series of western states that would share Virginia's interests. They failed, and in the antebellum era Virginia's elite more often allied with states to the south rather than those that were once part of the Old Dominion.
From the earliest settlement of the area, Virginians wrestled with both the political and cultural meaning of "Virginia." By examining the changing attitudes toward the early West, Virginia's Western Visions offers a fascinating glimpse into the dreams of the Old Dominion's early leaders, the challenges that faced them, and their vision for Virginia's future.
L. Scott Philyaw is associate professor of history at Western Carolina University. He is a contributor to After the Backcountry: Rural Life in the Great Valley of Virginia, 1800–1900, and his articles and reviews have appeared in the Virginia Magazine of History and Biography, the Journal of the Early Republic, and others.