Virginia Broughton
The Life and Writings of a Missionary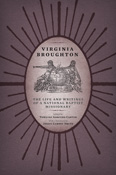 For more than half a century, Virginia E. Walker Broughton (1856–1934) worked tirelessly to uplift black communities, and especially black women, throughout Tennessee. Born into an elite African American family in Nashville, she began her professional career as a teacher and later became one of the most prominent domestic missionaries in the National Baptist Convention, U.S.A., as well as an accomplished speaker and writer. This annotated collection is the first scholarly work devoted entirely to Broughton's life and writings.
The book for which Broughton is best known, Twenty Year's [sic] Experience of a Missionary, was an autobiography first published in 1907 and reprinted in 1988 as part of a scholarly edition of spiritual narratives by black women. Recently, in the archives of Fisk University, Broughton's alma mater, Tomeiko Ashford Carter discovered an earlier autobiographical work, A Brief Sketch of the Life and Labors of Mrs. V. W. Broughton, Bible Band Missionary, for Middle and West Tennessee, which was distributed at the famous Atlanta Cotton States and International Exposition of 1895. While both autobiographies portray Broughton as an important religious figure for whom missionary work became a saving grace, Life and Labors is more revealing of key facts about Broughton and her family, and it situates them more clearly among the nation's black elite. This volume not only brings Life and Labors back into print but also collects various other pieces Broughton produced during her long career.
Among those other writings is a 1904 booklet titled Woman's Work: As Gleaned from the Women of the Bible, and the Bible Women of Modern Times, which recognizes the prominence of the female in Christian theology and shows how Broughton anticipated the work of present-day feminist and womanist theologians. Several "training course" articles that Broughton wrote for a National Baptist newspaper, covering such topics as the Christian deportment of women and the need for black spiritual literature, are also gathered here, as are a program she devised for systematic Bible study and a brief article, published just a few years before her death, in which she describes some of her missionary field work. Complementing these primary materials are an extensive critical introduction and notes by Carter, a Walker-Broughton family tree, and a chronology of Broughton's life.
As this collection makes clear, Virginia Broughton was strongly committed to making the work of black religious women an ongoing intellectual enterprise. In these pages, she emerges as both a dedicated missionary and a formidable religious scholar.