Very Violent Rebel
The Civil War Diary of Ellen Renshaw House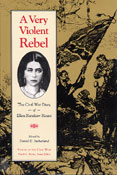 Author(s): Sutherland, Daniel E.
Series:
Imprint: Univ Tennessee Press
Publication Date: 2008-04-30
Status: Active
Available in Paper: Price $29.95 | Buy Now
"This diary is an excellent chronicle of the Civil War in East Tennessee from the eyes of a Southern sympathizer. Living in a region populated mainly by Unionists, Ellen House freely expressed her rancor toward her neighbors and her devotion to the Southern cause. Her words provide useful insights into the extreme bitterness that divided East Tennessee."—Charles F. Bryan Jr., Director, Virginia Historical Society
"Ellen House's wartime account of her beleaguered plight in Knoxville and her ultimate flight into Georgia is as compelling as any left us by a Confederate woman. Her story adds a great deal to our understanding of the unique dynamics of the Civil War in East Tennessee and the pressures faced by Confederate sympathizers in that unusually volatile setting."—John C. Inscoe, University of Georgia
Ellen Renshaw House was only nineteen years old in 1863 when she began a detailed journal of her experiences in Knoxville, Tennessee, amid the turmoil of the Civil War. Her diary, now published for the first time, is a remarkable document of the divided loyalties that were so pronounced in that part of the state and of the daily effects the war had on civilians.
A member of a middle-class family that had moved to Knoxville in 1860 from Georgia, Ellen House became, like her parents and siblings, a fervent Confederate—or, as she called herself, "a very violent Rebel." When the city fell to Federal forces in September 1863, Ellen's resentments ran deep, and she filled her diary with scornful words for the occupying Yankees. She eagerly followed the news of military actions that might mean the recapture of the city and became an eyewitness to the war's dangers when Confederate General James Longstreet launched an ill-fated attack on Knoxville late in 1863. Despite her own privations, Ellen gave much of her time to providing relief to Confederate prisoners of war in the city. Since she made no secret of where her sympathies lay, Federal military authorities eventually suspected her of spying and expelled her to Georgia, where she continued to record her impressions and observations.
Only recently brought to light by the diarist's descendants, this compelling personal record has been meticulously edited and annotated by Daniel Sutherland. The resulting volume adds a spirited and articulate voice to the chorus of available firsthand testimony on America's bloodiest conflict.
Daniel E. Sutherland is professor of history at the University of Arkansas. He edited Reminiscences of a Private: William E. Bevens of the First Arkansas Infantry, C.S.A.