Uncommon Soldiers
Harvey Reid and the 22nd Wisconsin March with Sherman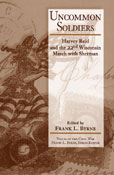 Author(s): Byrne, Frank L.
Series:
Imprint: Univ Tennessee Press
Publication Date: 2001-08-31
Status: Active
Available in Hardcover - Cloth: Price $32.00 | Buy Now
"Scholars and general readers alike will enjoy these superbly edited letters. At once insightful and entertaining, they vividly illustrate the reactions of both Union soldiers and Southern civilians to the hardships and fortunes of war."—Daniel E. Sutherland, University of Arkansas
"Under the careful editorial eye of Frank Byrne, Harvey Reid's letters have re-emerged, and for scholars seeking to bring the war in the West into its proper political and social context, this volume will be of special interest."—Stephen D. Engle, Florida Atlantic University
As a noncommissioned officer and headquarters clerk, Harvey Reid was in a unique position to observe army politics and military operations during his Civil War service with the 22nd Wisconsin Volunteer Infantry Regiment. Blessed with a sense of history, a keen eye, and solid writing gifts, this former school teacher produced a series of unusually revealing wartime letters.
In his correspondence, Reid reflected on camp life and the turbulent, often confusing experiences of enlisted men. His writings are especially valuable for their commentary on soldiers' reactions to the burning issues of the day—among them slavery, the Emancipation Proclamation, and the use of African American troops. Although Reid and his unit spent little time on the battlefield, Reid was captured in March 1863, and he wrote a detailed description of his time as a prisoner of war. Upon his release, Reid was reunited with his regiment, which joined in Sherman's 1864 offensive against Atlanta. After that city's fall, Reid's letters describe the march to the sea and through the Carolinas.
Originally published in 1965 under the title The View from Headquarters, this book was much praised and much used by historians exploring the war's Western theater and the lives of ordinary soldiers. This new edition includes an appendix that further enhances its value: a memoir of Sherman's march by William H. McIntosh, another veteran of the 22nd Wisconsin.
The Editor: Frank L. Byrne is professor emeritus of history at Kent State University and editor of the Voices of the Civil War series. His other books include Haskell of Gettysburg: His Life and Civil War Papers and Your True Marcus: The Civil War Letters of a Jewish Colonel.