Ulster to America
The Scots-Irish Migration Experience, 1680Ð1830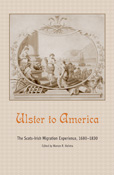 "This book represents a major advance in our understanding by clearing away long-standing and popular but erroneous ideas about the Scotch-Irish. Moreover, it seeks to fit Scotch-Irish migration into a broader context, the currently fashionable historiographical construct of the Atlantic World. Seeing the networks and connections that fit the Scotch-Irish into the larger web of empire points the way for new questions about the migratory experience." —Tyler Blethen, coeditor of Ulster and North America: Transatlantic Perspectives on the Scotch-Irish
____________________________
In Ulster to America: The Scots-Irish Migration Experience, 1680–1830, editor Warren R. Hofstra has gathered contributions from pioneering scholars who are rewriting the history of the Scots-Irish. In addition to presenting fresh information based on thorough and detailed research, they offer cutting-edge interpretations that help explain the Scots-Irish experience in the United States. In place of implacable Scots-Irish individualism, the writers stress the urge to build communities among Ulster immigrants. In place of rootlessness and isolation, the authors point to the trans-Atlantic continuity of Scots-Irish settlement and the presence of Germans and Anglo-Americans in so-called Scots-Irish areas. In a variety of ways, the book asserts, the Scots-Irish actually modified or abandoned some of their own cultural traits as a result of interacting with people of other backgrounds and in response to many of the main themes defining American history.
While the Scots-Irish myth has proved useful over time to various groups with their own agendas—including modern-day conservatives and fundamentalist Christians—this book, by clearing away long-standing but erroneous ideas about the Scots-Irish, represents a major advance in our understanding of these immigrants. It also places Scots-Irish migration within the broader context of the historiographical construct of the Atlantic world.
Organized in chronological and migratory order, this volume includes contributions on specific U.S. centers for Ulster immigrants: New Castle, Delaware; Donegal Springs, Pennsylvania; Carlisle, Pennsylvania; Opequon, Virginia; the Virginia frontier; the Carolina backcountry; southwestern Pennsylvania, and Kentucky. Ulster to America is essential reading for scholars and students of American history, immigration history, local history, and the colonial era, as well as all those who seek a fuller understanding of the Scots-Irish immigrant story.