U. S. Women Writers and the Discourses of Colonialism, 1825-1861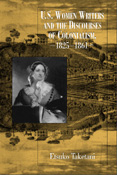 Author(s): Taketani, Etsuko
Series:
Imprint: Univ Tennessee Press
Publication Date: 2003-08-06
Status: Active
Available in Hardcover - Cloth: Price $30.00 | Buy Now
An overdue examination of widely marginalized writings by women of the American antebellum period, U.S. Women Writers presents a new model for evaluating U.S. relations and interactions with foreign countries in the colonial and postcolonial periods by examining the ways in which women writers were both proponents of colonization and subversive agents for change. Etsuko Taketani explores attempts to inculcate imperialist values through education in the works of Lydia Maria Child, Sarah Tuttle, Catherine Beecher, and others and the results of viewing the world through these values, as reflected in the writings of Harriet low, Emily Judson, and Sarah hale.
Many of the texts Taketani uncovers from relative obscurity illuminate the American attitude toward "others" – whether Native American, African American, African, or Asian. She not only sheds lights on the life of the writers she examines, but she also situates each writer's works alongside those of her contemporaries to give the reader a clear picture of the cultural context.
The Author: Etsuko Taketani is associate professor of English in the Institute of Modern Languages and Cultures at the University of Tsukuba, Japan. Her articles have appeared in American Literary History, Children's Literature, Melville Society Extracts, and other publications.