TVA Archaeology
Seventy-Five Years of Prehistoric Site Research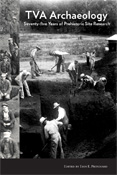 Author(s): Pritchard, Erin E., ed.
Series:
Imprint: Univ Tennessee Press
Publication Date: 2009-05-15
Status: Active
Available in Hardcover - Cloth: Price $45.00 | Buy Now
Since its inception in 1933, the Tennessee Valley Authority has played a dual role as federal agency and steward of the Tennessee River Valley. While known to most people today as an energy provider, the agency is also charged with managing and protecting the nation's fifth-largest river system, the Tennessee River, and vast tracts of land and resources encompassing Tennessee and portions of Alabama, Georgia, Kentucky, Mississippi, North Carolina, and Virginia. Included in TVA's mandate is the preservation of the archaeological record of the valley's prehistoric peoples-a record that would have been forever lost beneath floodwaters had TVA not demonstrated a commitment to minimize its impact on the valley and sought to protect its archaeological resources.
In TVA Archaeology, fourteen contributors who have worked with TVA in its conservation effort discuss prehistoric excavations conducted at Tellico, Normandy, Jonathan's Creek, and many other sites. They explore TVA's role in the excavations and how the agency facilitated prehistoric investigations along proposed dam sites. They also delve into the history of TVA as it grew from a New Deal program to a federal corporation and reveal how, during the agency's formative years, the TVA board responded to prodding from archaeologists David DeJarnette and William Webb and molded TVA into the steward of a region it is today.
TVA remains a mainstay of progress and conservation within an important region of the United States, and its safeguarding of the valley's prehistory cements its legacy as more than just an energy supplier. Students and researchers interested in prehistoric archaeology, the Tennessee Valley, and the history of TVA will find this volume an invaluable contribution to the study of the region.
Erin E. Pritchard is an archaeologist with the Tennessee Valley Authority. Her work includes multiple archaeological site investigations, most notably Dust Cave in northern Alabama, and she has authored and coauthored numerous site reports for TVA.