Trial by Trail
Backpacking in the Smoky Mountains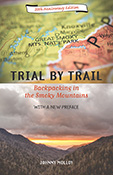 Author(s): Molloy, Johnny
Series:
Imprint: University of Tennessee Press
Publication Date: 0000-00-00
Status: Active
Available in Paper: Price $24.95 | Buy Now
Now updated with a new preface that examines dramatic changes in his favorite hiking and camping area, the Great Smoky Mountains National Park, this classic adventure chronicle, which first appeared in 1996, launched the outdoor writing career of Johnny Molloy. The author of over sixty invaluable hiking, camping, and paddling guides to natural destinations all over the country, Molloy has turned irresistible enthusiasm for the great outdoors, evident in this book, into a profound career, dedicated to honoring and celebrating our greatest wild places—and helping others enjoy them as much as he has.
In fourteen lively personal essays, Johnny Molloy describes the adventures by which he came of age as a backpacker. Born a "flatlander" in Memphis, he first visited the Smokies while attending the University of Tennessee-Knoxville in the 1980s. Initially, he treated the park as a personal playground—a place to cut loose, break rules, and act irresponsibly. After many hiking excursions, however, he gained a more profound appreciation of the mountains, becoming an avid park volunteer intent on the protection and improvement of the area. He grew, as he puts it, both as an outdoor adventurer and as a human being.
Interwoven throughout these pieces is a wealth of Smoky Mountains lore and history along with dozens of tips for novice backpackers. Molloy's stories encompass backpacking during all four seasons as well as accounts of solo hiking, off-trail hiking, and whitewater canoeing. Whether describing the hazards of crossing a stream in winter or what to do—and not to do—when one encounters a bear or a rattlesnake, Molloy writes with an infectious enthusiasm that will delight any lover of the outdoors.
A resident of Johnson City, Tennessee—when he is not researching his next book— JOHNNY MOLLOY is the author, most recently, of Hiking North Carolina's National Forests and Exploring Mammoth Cave National Park.