Touching the Web of Southern Novelists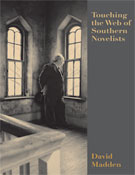 Author(s): Madden, David
Series:
Imprint: Univ Tennessee Press
Publication Date: 2006-06-15
Status: Active
Available in Hardcover - Cloth: Price $37.00 | Buy Now
David Madden is one of the South's most notable contemporary writers. His interests are remarkably vast. He has published award-winning fiction, poetry, plays, critical works, and essays on a wide variety of subjects, ranging from history to popular culture. This collection represents Madden's essays on various other southern writers and his own struggle to come to terms with how the works and lives of these writers have influenced his own life and work. By analyzing the charged image of the spider web, as described in chapter four of Robert Penn Warren's All the King's Men, Madden shows that it is a central symbol for his involvement with the interconnected, complex tradition of contemporary southern literature.
Touching the Web of Southern Novelists brings together essays on Faulkner, Warren, McCullers, Wolfe, Agee, and a new essay on Evelyn Scott. More than a collection of criticism, the book explores, in overlapping, far-reaching ways, how influence works its way through the southern literary tradition. It also includes an unusually detailed index. Two of the common elements in the essays are the dynamics and consequences of the relationship of an ostensible hero to his or her witnesses and the art of fiction, especially in the technique of using a charged image-a term that Madden invented. Another element is the overwhelming, if sometimes hidden, effect of the Civil War upon southern fiction. Madden provocatively argues that no northerner can write a "true" Civil War novel. All Southern fiction comes out of the Civil War, he argues, and that Absalom, Absalom! is the best Civil War novel because of its complex implications-not because it is overtly about the war.
Perhaps most powerful because of its semi-autobiographical nature, Touching the Web of Southern Novelists will appeal to anyone with an interest in literary studies and how art and life in southern novels are entwined with each other-caught in a web.