This Great Battlefield of Shiloh
History, Memory, and the Establishment of a Civil War National Military Park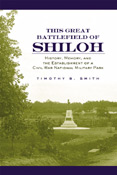 Author(s): Smith, Timothy B.
Series:
Imprint: Univ Tennessee Press
Publication Date: 2006-09-30
Status: Active
Available in Paper: Price $28.00 | Buy Now
Around the turn of the last century, feelings of patriotism, nationalism, and sectional reconciliation swept the United States and led to a nationwide memorialization of American military history in general and the Civil War in particular. The 1894 establishment of the Shiloh National Military Park, for example, grew out of an effort by veterans themselves to preserve and protect the site of one of the Civil War's most important engagements.
Returning to the Pittsburg Landing battlefield, Shiloh veterans organized themselves to push the Federal government into establishing a park to honor both the living participants in the battle and those who died there. In a larger sense, these veterans also contributed to the contemporaneous reconciliation of the North and the South by focusing on the honor, courage, and bravery of Civil War soldiers instead of continuing divisive debates on slavery and race.
This Great Battlefield of Shiloh tells the story of their efforts from the end of the battle to the park's incorporation within the National Park Service in 1933. The War Department appointed a park commission made up of veterans of the battle. This commission surveyed and mapped the field, purchased land, opened roads, marked troop positions, and established the historical interpretation of the early April 1862 battle. Many aged veterans literally gave the remainder of their lives in the effort to plan, build, and maintain Shiloh National Military Park for all veterans. By studying the establishment and administration of parks such as the one at Shiloh, the modern scholar can learn much about the mindsets of both veterans and their civilian contemporaries regarding the Civil War. This book represents an important addition to the growing body of work on the history of national remembrance.