The Warrior's Path
Reflections along an Ancient Route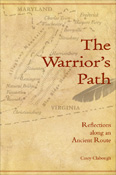 Author(s): Clabough, Casey
Series:
Imprint: Univ Tennessee Press
Publication Date: 2007-10-30
Status: Active
Available in Paper: Price $24.95 | Buy Now
"I know of no other book exactly like this one, yet it is part of a tradition. One thinks of the best work of John McPhee, Wendell Berry, Annie Dillard. The writing is at once eloquent, elegant, and evocative. In short, it is a beautifully written work: a genuine pleasure to read, and to re-read." –George Garrett
"Casey Clabough's unique vision, his curious and important quest, his personable and earnest manner of expression draw us into his world just that engagingly. His world is our world, too, the trace our ancestors followed into the wilderness to transform a landscape into a nation. History, memoir, travel journal, meditation—The Warrior's Path is all these things at once, its firm understanding of the past made lyric with lively language. This is a volume to keep close at hand when doubts about our American destiny begin to assail. Solid, durable, and—entrancing." —Fred Chappell
"This account draws us deep into an intimacy with our geography and culture, with all the triumphs, failures, and contradictions we are heir to."  -Robert Morgan, author of Brave Enemies and Boone: A Biography
One of North America's oldest and most storied routes, "the Warrior's Path," as it was known by the Iroquois, was formed centuries ago by migrating animals and the humans who followed them. It spanned from the Iroquois lands of what is today New York State down the Appalachian Valley system and into the Cherokee country of Tennessee and North Georgia. Casey Clabough recently set out to hike more than five hundred miles of the route from Maryland to Tennessee and, in the process, to connect history, culture, and nature to the story of his own colonial German ancestors who traversed that particular section en route to the Smoky Mountains at the close of the 1700s. The Warrior's Path is both the story of Clabough's journey and a philosophical meditation upon the extraordinary people and events that have populated the thoroughfare over the course of several centuries. Rich in energy and lore, Clabough deftly employs both his ancestors' journey and his own as springboards for understanding the path's and the region's centrality in the American experience.
As he contemplates the past, Clabough conjures and evokes countless historical images: from sketches of the grand French-Indian and Revolutionary struggles to the hardscrabble circumstances of his own Appalachian ancestors. At once richly philosophical, minutely historical, and highly personal, the book invites the reader to accompany Clabough on his journey as he recounts a contemplative, provocative, and at times harrowing, experience that is sure to delight and fascinate readers.
Casey Clabough is Associate Professor of English and English Graduate Coordinator at Lynchburg College in Virginia. He also serves as literature editor for the Virginia Foundation for the Humanities' Encyclopedia Virginia. The author of scholarly books on James Dickey and Fred Chappell, his work has appeared in Callaloo, Contemporary Literature, Shenandoah, The Hollins Critic, The Sewanee Review, The Virginia Quarterly Review, and elsewhere.