The Union Must Stand
The Civil War Diary of John Quincy Adams Campbell, Fifth Iowa Volunteer Infantry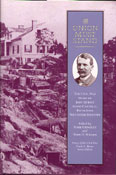 Author(s): Grimsley, Mark, and Todd D. Miller, eds.
Series: Voices of the Civil War
Imprint: Univ Tennessee Press
Publication Date: 2000-02-23
Status: Active
Available in Paper: Price $34.95 | Buy Now
Only rarely does a Civil War diarist combine detailed observations of events with an intelligent understanding of their significance. John Campbell, a newspaperman before the war, left such a legacy. A politically aware Union soldier with strong moral and abolitionist beliefs, Campbell recorded not only his own reflections on wartime matters but also those of his comrades and the southerners—soldiers, civilians, and slaves—that he encountered.
Campbell served in the Fifth Iowa Volunteer Infantry from 1861 to 1864. He participated in the war's major theaters and saw early action at Island No. 10, Iuka, and Corinth. His diary is especially valuable because he viewed the war as both a field-commissioned officer able to make intelligent comments about combat and as a former enlisted man with a feel for the soldier's life. He was present during Grant's campaign at Vicksburg and depicted the bloody failure of the May 22 storming of Confederate fortifications in unsparing terms; he then went on to fight at Chattanooga and took Gen. William T. Sherman to task for his poor leadership at Missionary Ridge.
The Union Must Stand contains more than Campbell's journal. Editors Mark Grimsley and Todd Miller have written an introduction that provides background information and places the diary in the context of current debate over the ideological commitments of Civil War soldiers. An appendix reproduces fifteen of Campbell's letters to his hometown newspaper, in which he shared his impressions of both war and slavery.
With its unique point of view, valuable insights into the conduct of various campaigns, and some of the most vivid depictions of Civil War combat ever set to paper, Campbell's diary offers both a wealth of new primary material for historians and exciting reading for enthusiasts. Combining a journalist's accuracy with a zealot's idealism, it makes a forceful statement about why one man went to war.
The Editors: Mark Grimsley is an associate professor of history at the Ohio State University and the author of The Hard Hand of War: Union Military Policy Toward Southern Civilians, 1861-1865.
Todd D. Miller is a history teacher and an independent researcher for Time-Life Books' Civil War series. He lives in Ashland, Ohio.