The Stone-Campbell Movement
An International Religious Tradition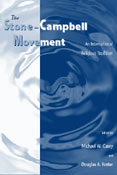 Author(s): Casey, Michael W., and Douglas A. Foster, eds.
Series:
Imprint: Univ Tennessee Press
Publication Date: 2002-06-14
Status: Active
Available in Hardcover - Cloth: Price $45.00 | Buy Now
The religious reform tradition known as the Stone-Campbell movement came into being on the American frontier in the early decades of the nineteenth century. Named for its two principal founders, Barton W. Stone and Alexander Campbell, its purpose was twofold: to restore the church to the practice and teaching of the New Testament and, by this means, to find a basis for reuniting all Christians. Today, there are three major branches of the Stone-Campbell tradition: the Christian Church (Disciples of Christ), Churches of Christ, and Christian Churches/Churches of Christ.
This volume brings together twenty-six essays drawn from the significant scholarship on the Stone-Campbell movement that has flourished over the past twenty years. Reprinted from diverse scholarly journals and concentrating on historiographic issues, the essays consider such topics as the movement's origins, its influence on the presidency, its presence in Britain, and its multicultural aspects.
In their introduction, Casey and Foster reveal the connections between this scholarship and larger issues of American history, religion, and culture. They note that David Edwin Harrell Jr., and Richard T. Hughes—both of whom are represented in the collection—have provided competing paradigms of the social and intellectual history of the movement: While Harrell defends the legitimacy of the sectarian "non-institutional" Churches of Christ, Hughes legitimizes the current progressive movement found in Churches of Christ. Casey and Foster propose six additional historiographic constructs as alternatives to those of Harrell and Hughes and assess each paradigm's implications for the scholarship of the movement.
The first major survey of research on the Stone-Campbell movement in a quarter of a century, this book will also serve as an invaluable resource for scholars of American religious movements in general.
The Editors: Michael W. Casey is professor the communication at Pepperdine University. He is the author of The Battle Over Hermeneutics in the Stone-Campbell Movement, 1800–1870 and Saddlebags, City Streets, and Cyberspace: A History of Preaching in the Churches of Christ.
Douglas A. Foster is associate professor of church history and director of the Center for Restoration Studies at Abilene Christian University. He is author of Will the Cycle Be Unbroken? Churches of Christ Face the Twenty-First Century and co-author of The Crux of the Matter: Crisis, Tradition, and the Future of Churches of Christ.
The Contributors: Peter Ackers, Louis Billington, Monroe Billington, Paul M. Blowers, Michael W. Casey, Anthony L. Dunnavant, David B. Eller, Philip G. A. Griffin-Allwood, Jean F. Hankins, David Edwin Harrell Jr., Nathan O. Hatch, L. Edward Hicks, Richard T. Hughes, Deryck W. Lovegrove, John L. Morrison, Russ Paden, Paul D. Phillips, William C. Ringenberg, Stephen Vaughn, Earl Irvin West, Mont Whitson, Glenn Michael Zuber.