The Springfield Gas Machine
Illuminating Industry and Leisure, 1860s-1920s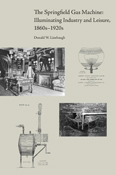 Developed just after the close of the Civil War, the Springfield gas machine was a unique commercial and domestic gas lighting system marketed for use in homes and businesses outside of a city's gas works. The self-contained unit was perfectly suited to accommodate an expanding rural and suburban U.S. landscape as middle- and upper-class American families were looking to find simplicity in the countryside without losing any modern comforts of the city. Industries, too, were looking for a means to operate more efficiently and implement longer work hours for various production operations. Perhaps more important, owners of the Springfield system could retain control of their light production during a time when corporations were reaping large benefits from their monopolistic hold over municipal gas works.
In addition to detailing preserved Springfield systems across the country, Donald W. Linebaugh uses newspapers and magazine articles, advertisements, patents, and even mail-order catalogs to tell the story of this one-of-a-kind unit. The Gilbert and Barker Manufacturing Company's innovative business plan established them as a leader in the manufacture of gas lighting devices. By taking gasoline from an oft-discarded byproduct of refining crude oil to a viable fuel source, the company paved the way for other gas-powered appliances to improve household management strategies and industrial production. In capturing the pre-automobile market for gasoline, Gilbert and Barker attracted the attention of the Standard Oil Trust, presaging the oil-industry dominance over gasoline production that continues today.
The story of the Springfield gas machine ends in the early twentieth century as the advent of electricity proved more available to the masses with considerably less expense. However, gas lighting was, for its time, a major innovation in domestic and commercial lighting, and it changed daily life and social behaviors in the late nineteenth century as the comforts of home became a reality for suburban and rural Americans.