The Spirit of the Mountains
Foreword By Roger D. Abrahams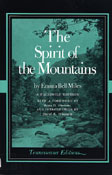 Author(s): Miles, Emma Bell
Series: Tennesseana Editions
Imprint: Univ Tennessee Press
Publication Date: 1985-07-22
Status: Active
Available in Paper: Price $18.00 | Buy Now
A classic account of mountain life, accurately portraying the people and lore of the Cumberland Mountains.  Miles' familiarity with the mountain people–and her perception of the importance of women, especially older women–allows her to illustrate their way of life in a personal and realistic manner.
". . . gives us an extraordinary insight into the personal relationships of the mountain lore, signs, rhymes, omens, tales, even the development of the mountain music.  She presents the strength of religious beliefs along with the emotionalism and simplistic tradition of 'the old-time religion.'"—The Southern Quarterly
.
Emma Bell Miles (1879-1919) also wrote numerous poems and short stories that appeared in such publications of the period as Harpers Monthly, Century, and Lippincott's.