The Short Fiction of Ambrose Bierce, Volume II
A Comprehensive Edition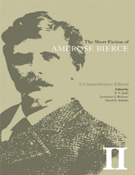 Author(s): Bierce, Ambrose
Series:
Imprint: Univ Tennessee Press
Publication Date: 2006-09-15
Status: Active
Available in Hardcover - Cloth: Price $55.00 | Buy Now
Ambrose Bierce (1842–1914?) has been a widely read, often controversial, author for more than a hundred years, but until now there has been no exhaustive collection of his short fiction. This new edition, both comprehensive and chronological, reveals the broad range of fiction that Bierce mastered. Readers who expect to find only a writer of grim and shocking stories of war and other horrors will discover that he excelled at other types of tales—humorous, mystical, Gothic, satirical, sentimental, mystery, science fiction, and even love stories. This collection gives readers the opportunity to observe the growth of characteristic themes and techniques in Bierce's short fiction. A number of the early sketches evidence both the thoughtful moral focus and the technical brilliance of his best work, and here they also can be seen as training exercises for the young writer on his way to the better-known stories of his artistic peak. Although several previous books purport to provide accurate collections of Bierce's work, none does more than uncritically re-assemble the tales in the heretofore standard Collected Works (1909-1912).
This edition will be the new standard. It is the first to include all his known and rediscovered short fiction. Of the 249 items collected in this edition, 1 story ("Alasper") is unpublished, 58 have not been previously reprinted from the newspapers and magazines in which they originally appeared, and 74 have not been reprinted since their appearance in Bierce's early volumes. It is also the only edition to be based upon consultation of manuscripts and early printed sources. As a result, textual corrections have been made to some of Bierce's stories, including two of his best known.
Volume II covers the years 1887 to 1893 and collects nearly 60 pieces, including "A Horseman in the Sky," "Chickamauga," "A Son of the Gods," and "An Occurrence at Owl Creek Bridge." A model of careful scholarship, this edition includes selected textual variants, a bibliography of all appearances of the story in Bierce's lifetime, introductory comments and extensive annotations that provide biographical and other background information, and citations to important works of criticism.