The Serpent and the Swan
The Animal Bride in Folklore and Literature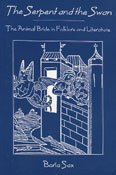 Author(s): Sax, Boria
Series:
Imprint: Univ Tennessee Press
Publication Date: 2001-01-02
Status: Active
Available in Paper: Price $29.95 | Buy Now
The Serpent and the Swan is a history and analysis of animal bride tales from antiquity to the present. The animal bride tale, the author argues, is an enduring expression of humankind's need to remain close to and a part of nature.
Boria Sax traces the idea of the animal bride through history by drawing upon legends and literary works from throughout the world. He pays particular attention to Eurasian sources which support his thesis that the animal bride theme originated among the serpent cults of Mesopotamia and southeastern Europe. Through time, the details of the animal bride theme changed as a result of mankind's changing perceptions of the natural world. In general, this study is an account of myths and beliefs that have surrounded animals—and women—during the rise of modern humankind.
The Serpent and the Swan identifies and explains images of the animal bride that pervade, enliven, and enrich our culture. The bride becomes Eve taking an apple from the serpent, Medea casting spells, Cinderella riding to the royal ball in a pumpkin coach, and the Little Mermaid rising from the waves.
The Author: Boria Sax, who holds a doctorate in German and intellectual history, is the author of The Frog King and The Parliament of Animals, among other books.