The Politics of Injustice
The Kennedys, the Freedom Rides, and the Electoral Consequences of a Moral Compromise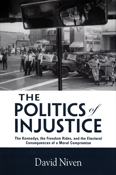 Author(s): Niven, David
Series:
Imprint: Univ Tennessee Press
Publication Date: 2003-03-25
Status: Active
Available in Hardcover - Cloth: Price $28.00 | Buy Now
When the Freedom Riders sought an end to segregation in 1961, they had little support from a supposedly liberal administration in Washington. In his efforts to hold a centrist position and with an eye toward re-election, President John F. Kennedy largely ignored and even tried to hamper the efforts of these civil rights activists.
While most historians accept JFK's "moderation" on civil rights as politically prudent, David Niven now argues that Kennedy failed to recognize the political perils of his indifference to civil rights—that a stronger stance would have been not only morally right but also politically expedient. Niven contends that the Kennedy administration's position on civil rights marked a failure to recognize the depth of the connection voters made between Kennedy, the Democratic party, and the civil rights movement, as well as a failure to recognize the importance of the African American voting bloc in the long run.
Niven explores how the Freedom Rides set a pattern for JFK's reaction to the civil rights movement, and how the president tried to make a half-hearted stand for civil rights while shoring up his support among segregationist white southern Democrats. Drawing on voting data, public opinion polls, and a shrewd analysis of the existing literature, he shows that Kennedy and his advisors—including Attorney General Robert Kennedy—had ample evidence to recognize that the old Democratic Solid South would soon be lost and that they should court the African American vote and the white liberal vote outside the South.
The Politics of Injustice clearly shows that, despite his liberal reputation, President Kennedy stood in the way of civil rights progress due to a political miscalculation. It is a critical book for understanding the early 1960s and the Kennedy administration, and for contemplating what might have been in those turbulent times.
The Author: David Niven is associate professor of political science at Florida Atlantic University and co-author, with Jeremy Zilber, of Racialized Coverage of Congress: The News in Black and White.