The Papers of Andrew Jackson, Volume 9, 1831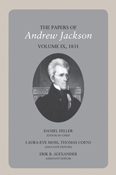 Author(s): Jackson, Andrew
Series: Papers of Andrew Jackson
Imprint: Univ Tennessee Press
Publication Date: 2013-11-15
Status: Active
Available in Hardcover - Cloth: Price $92.00 | Buy Now
This volume presents more than five hundred original documents, many newly discovered, from Andrew Jackson's third presidential year. They include Jackson's private memoranda, intimate family letters, and correspondence with government and military officers, diplomats, Indians, political friends and foes, and ordinary citizens throughout the country.
In 1831 Jackson finally cleared his contentious Cabinet, reluctantly accepting the resignations of Martin Van Buren and John Eaton and demanding that the other members follow. But in the aftermath, animosities among them boiled over, as Eaton sought duels with outgoing secretaries Samuel Ingham and John Berrien. The affair ended with gangs of armed high-government officers stalking each other in the Washington streets, and with Ingham publicly accusing Jackson of countenancing a plot to assassinate him.
Meanwhile, Jackson pursued his feud with Vice-President John C. Calhoun, whom he had come to view as the diabolical manipulator of all his enemies. Enlisting a favorite Supreme Court justice to gather evidence, Jackson crafted an exposition, intended for publication, that leveled nearly fantastic charges against Calhoun and others.
Through all this, the business of government ploughed on. Jackson pursued his drive to remove the Cherokees and other Indians west of the Mississippi and to undercut tribal leaders who dared resist. To squelch sectional controversy, Jackson moved to retire the national debt and reduce the tariff, while reiterating his ban on nullification and his opposition to the Bank of the United States. Nat Turner's Virginia slave revolt in August drew a quick administration response. By year's end, the dust over the Cabinet implosion was settling, as Jackson prepared to stand for reelection against his old nemesis Henry Clay.
Embracing all these stories and many more, this volume offers an incomparable window not only into Andrew Jackson and his presidency but into America itself in 1831.