The Papers of Andrew Jackson, Volume 8, 1830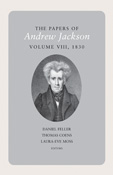 Author(s): Jackson, Andrew
Series: Papers of Andrew Jackson
Imprint: Univ Tennessee Press
Publication Date: 2010-11-30
Status: Active
Available in Hardcover - Cloth: Price $80.00 | Buy Now
This eighth volume of Andrew Jackson's papers presents more than five hundred documents, many appearing here for the first time, from a core year in Jackson's tumultuous presidency. They include Jackson's handwritten drafts of his presidential messages, private notes and memoranda, and correspondence with government officials, Army and Navy officers, friends and family, Indian leaders, foreign diplomats, and ordinary citizens throughout the country.
In 1830 Jackson pursued his controversial Indian removal policy, concluding treaties to compel the Choctaws and Chickasaws west of theMississippi and refusing protection for the Cherokees against encroachments by Georgia. Jackson nurtured his opposition to the Bank of the United States and entered into an escalating confrontation with the Senate over presidential appointments to office. In April, Jackson pronounced his ban on nullification with the famous toast to "Our Federal Union," and in May he began an explosive quarrel with Vice-President John C. Calhoun over the latter's conduct as secretary of war during Jackson's Seminole campaign of 1818. Also in May,Jackson delivered his first presidential veto, stopping federal funding for the Maysville Road and declaring opposition to Henry Clay's "American System." In July, Jackson's refusal to use his pardoning power to save an Irish-born mail robber from the gallows provoked a near-riot in Philadelphia. By the end of the year, Jackson was preparing for his reelection campaign in 1832. Meanwhile the sex scandal surrounding Peggy Eaton, wife of the secretary of war, lurked throughout, dividing Jackson's cabinet, sundering his own family and household, and threatening to wreck the administration.
Embracing all these stories and many more, this volume offers an incomparable window not only into Andrew Jackson and his presidency but into 1830s America itself.