The Negro Traditions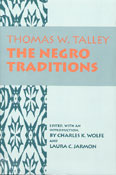 Author(s): Talley, Thomas W.
Series:
Imprint: Univ Tennessee Press
Publication Date: 1996-02-28
Status: Active
Available in Paper: Price $19.50 | Buy Now
This collection of previously unpublished tales is a major contribution to the annals of African-American folk narrative. Ranging from fables to historical narratives, these tales contain a rich variety of information on folk customs, speech, and songs, providing the reader with a deeper understanding of and appreciation for nineteenth-century African-American culture.
Negro Traditions offers wonderful descriptions of all manner of rural African-American folk customs, including valuable insights into post–Civil War life in rural Middle Tennessee—from riddles to dances—and how former slaves and their children felt about their lives. At times the movement of these tales toward tragedy is reminiscent of Faulkner; their humor suggests Sut Lovingood; their occasional dark surrealism has overtones of Cormac McCarthy. But the overriding reality of these tales as a representation of a people and their culture gives them a power that moves the reader beyond fiction and into factuality. Here are no banjo-plunking renditions of "Zip-A-Dee-Doo-Dah"; these tales are full of the realities of life: violence, work, the power of the supernatural, family life, racial tension, and an intense burning resentment against slavery.
Thomas W. Talley collected these tales during the 1920s from childhood memories of stories told during the post–Civil War era by friends and family in rural Middle Tennessee. A chemistry professor at Fisk University in Nashville, Talley was a twentieth-century pioneer in African-American folklore who used his keen insight and imagination to confront the complex and little-known wellsprings of his own cultural background. The result is a dynamic representation of an African-American tradition.
The Editors: Charles K. Wolfe and Laura C. Jarmon are both professors of English at Middle Tennessee State University, Murfreesboro.