The Memoirs of Brigadier General William Passmore Carlin, U.S.A
"Fighting Billy": Sherman's Warrior in the West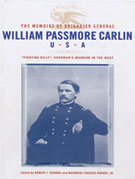 Author(s): Girardi, Robert I. and Nathaniel Cheairs Hughes, Jr., eds.
Series:
Imprint: Robert Girardi
Publication Date: 2005-10-17
Status: Active
Available in Hardcover - Cloth: Price $35.00 | Buy Now
William Passmore Carlin (1829-1903) was a native of Illinois who graduated from West Point in 1850 and served on frontier duty and in Utah before the Civil War. Carlin began his Civil War career as colonel of the 38th Illinois Infantry and served in the early battles in Missouri and Mississippi. He commanded troops in the important battles of Perryville, Stones River, Liberty Gap, Chickamauga, Missionary Ridge, Buzzard Roost, Resaca, Kennesaw Mountain, the siege of Atlanta, Jonesboro, and Bentonville. A successful brigade and division commander from Perryville to Sherman's March to the Sea and march through the Carolinas until the end of the war, Carlin retired in 1893 as a brigadier general.
The writings of Carlin offer the reader a rare opportunity to share the career of a professional, but quite human, army officer from the 1850s through Reconstruction and beyond.
Robert I. Girardi is past president of the Chicago Civil War Round Table and has edited five books, including The Military Memoirs of General John Pope.
Nathaniel Cheairs Hughes, Jr., is the author, coauthor, or editor of numerous books, including Brigadier General Tyree H. Bell, C.S.A.: Forrest's Fighting Lieutenant; The Pride of the Confederate Artillery: The Washington Artillery in the Army of Tennessee; and Jefferson Davis in Blue: The Life of Sherman's Relentless Warrior.