The Life of Jedidiah Morse
A Station of Peculiar Exposure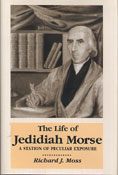 Author(s): Moss, Richard J.
Series:
Imprint: Univ Tennessee Press
Publication Date: 1995-03-17
Status: Active
Available in Hardcover - Cloth: Price $30.00 | Buy Now
"Richard Moss locates Jedidiah Morse as a man torn between a republican past and a liberal future, a paradigm certainly familiar to scholars in this field. But Moss also seeks to understand Morse as a human actor through the provocative and perhaps controversial application of psychological evidence and interpretation."—John Andrew, Franklin & Marshall College
Jedidiah Morse—clergyman, geographer, and father of the painter and inventor Samuel Morse—was a significant figure in post-Revolutionary New England. Through his popular geography texts, he described the new nation to Americans. As a prominent Congregationalist minister, he involved himself deeply in the heated religious controversies of his day. As a polemicist, he voiced the anxieties Americans felt about such turbulent events as the French Revolution and the political and religious changes their own country was undergoing.
As Richard Moss reveals in this provocative biography, Morse was caught in a personal dilemma that reflected the larger tensions within his society. On the one hand, he played the role of self-sacrificing minister—a role drawn from the expectations of his father and the Connecticut traditions in which he was reared. In this capacity, he adopted the language of Christian Republicanism and sought to defend the virtues of communitarian village life, austerity, and deference to the Federalist leadership. On the other hand, Morse recognized the opportunities offered by the emerging liberal, capitalist culture. As an author and speculator, he amassed a small fortune and became enmeshed in a web of financial gambles that ultimately ruined him.
Drawing on psychological theory, Moss argues that, far from remaining separate, the two sides of Jedidiah Morse were dependent upon each other. Because Morse lacked a sense of wholeness, Moss contends, he projected a public persona—that of the devoted cleric—to compensate for the "hidden" identity he feared—that of the capitalist individualist. In this light, Morse's penchant for conspiracy theories—directed against such groups as the French Illuminati and the Unitarians—can be seen as "ritual moments" in which he strove to prove himself loyal to his Christian concept of virtue.
The Author: Richard J. Moss is professor of history at Colby College and the author of Noah Webster.