The Life and Wars of Gideon J. Pillow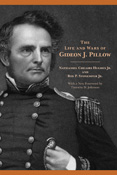 One of nineteenth-century America's most controversial military figures, Gideon Johnson Pillow gained notoriety early in the Civil War for turning an apparent Confederate victory at Fort Donelson into an ignominious defeat. Dismissed by contemporaries and historians alike as a political general with dangerous aspirations, his famous failures have overshadowed the tremendous energy, rare talent, and great organizational skills that also marked his career. In this exhaustive biography, Nathaniel Cheairs Hughes Jr. and Roy P. Stonesifer Jr. look beyond conventional historical interpretations to provide a full and nuanced portrait of this provocative and maligned man.
While noting his arrogance, ambition, and very public mistakes, Hughes and Stonesifer give Pillow his due as a gifted attorney, first-rate farmer, innovator, and man of considerable political influence. One of Tennessee's wealthiest planters, Pillow promoted scientific methods to improve the soil, preached crop diversification to reduce the South's dependence on cotton, and endorsed railroad construction as a means to develop the southern economy. He helped secure the 1844 Democratic nomination for his friend and fellow Tennessean James K. Polk and was rewarded after Polk's victory with an appointment as brigadier general. While his role in the Mexican War earned him a reputation for recklessness and self-promotion, his organization of what would become the Army of Tennessee put him at the forefront of the Confederate war effort. After the disaster at Donelson, he spent the rest of the war directing Confederate conscription in the West and leading Rebel cavalry forces—a role of continuing service which, the authors show, has been insufficiently acknowledged.
Updated with a new foreword by noted Civil War scholar Timothy D. Johnson, The Life and Wars of Gideon J. Pillow portrays a colorful, enigmatic general who moved just outside the world of greatness he longed to enter.
Nathaniel Cheairs Hughes Jr. is the author or editor of twenty books relating to the American Civil War, including Refugitta of Richmond; Brigadier General Tyree H. Bell, C.S.A.: Forrest's Fighting Lieutenant; and Yale's Confederates. The late Roy P. Stonesifer Jr. was a professor of history at Edinboro University of Pennsylvania.