The Life and Times of Ray Hicks
Keeper of the Jack Tales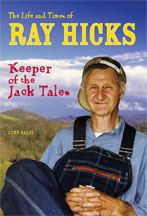 Author(s): Salsi, Lynn
Series:
Imprint: Univ Tennessee Press
Publication Date: 2008-10-10
Status: Active
Available in Hardcover - Cloth: Price $34.95 | Buy Now
Renowned storyteller Ray Hicks was a certified national treasure. He received many prestigious honors in his lifetime, including the National Heritage Fellowship Award from the National Endowment for the Arts. Best known for his traditional storytelling and also for saving the original Beech Mountain Jack tales brought to the Appalachian Mountains by his ancestors as early as 1776, Hicks was conscious of the role he played in the preservation of oral storytelling. Many of those stories are included in The Life and Times of Ray Hicks.
Born in 1922, Ray lived his whole life in the Appalachian Mountains of North Carolina. (Although it finally got a refrigerator and electric lights, Ray's place never did get a telephone, indoor plumbing, or a radio or television.) It seems he knew everything there was to know about living off the land and about his family's history. A lot of what he knew is in this new book.
Hicks made his public storytelling debut in 1951, when a local schoolteacher invited him to her class. In 1973, Ray performed at the very first International Storytelling Festival in Jonesborough, Tennessee. He appeared at every one until he became too weak to attend. He died on Easter Sunday in 2003.
Based on hundreds of hours of interviews and visits, painstakingly pieced together by Lynn Salsi, The Life and Times of Ray Hicks comes as close as possible to capturing the way Ray talked. Part memoir and part biography, The Life and Times of Ray Hicks presents, sometimes in Ray Hicks's own words, the most important part of his long, colorful life-a life scarcely less interesting than the Jack Tales he told so well.
Lynn Salsi is the author of several books, including The Jack Tales and Young Ray Hicks Learns the Jack Tales. She has received the American Library Association's Notable Book Award, six Willie Parker Peace History Book Awards, and was named the North Carolina Historian of the Year in 2001.