The Letters of Jean Toomer, 1919-1924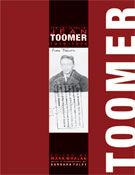 Author(s): Whalan, Mark, ed.
Series:
Imprint: Univ Tennessee Press
Publication Date: 2006-05-15
Status: Active
Available in Hardcover - Cloth: Price $38.00 | Buy Now
Considered deeply controversial because of his experimental writing style and complicated racial heritage, Jean Toomer was a major figure of the Harlem Renaissance and in the twentieth-century modernist movement. Toomer has been the focus of much research, and over the years, his letters have been widely cited by specialists on the literature of the period. The Letters of Jean Toomer, 1919-1924 is the first-ever annotated collection of the author's correspondence.
The letters included in the volume-most of which are in the Beinecke Library at Yale University-were written in the five years surrounding Toomer's publication of his seminal work, Cane. As such, they lend unique insight into the life, aesthetics, politics, and work of a central figure in American literature of the early twentieth century. Mark Whalan's compilation offers a vital document for understanding the contexts, intellectual debates, and tensions undergirding Toomer's work, including his simultaneous feelings of attraction to and estrangement from rural Southern life, the influence of technology on race and urban existence in America, and the contradictory pulls of folk culture and modernist experimentation.The collection also charts the motives underlying Toomer's abandonment of the style that distinguished Cane, and his growing fascination with the teachings of the mystic G. I. Gurdjieff in 1924.
On a more personal level, Toomer's struggles with creative isolation and the small world of black Washington society-and later with the New York literary avant garde-are made evident, as are his intense and often domineering relationships with women. His correspondents constituted a who's who of 1920s intellectual life, including Alain Locke, Georgia Douglas Johnson, Countée Cullen, Waldo Frank, Sherwood Anderson, Lewis Mumford, Alfred Stieglitz, Georgia O'Keefe, and Hart Crane.
A singular addition to Toomer scholarship, The Letters of Jean Toomer, 1919-1924 is an invaluable resource for students of the Harlem Renaissance and literary modernism.