The Legacy of the Moral Tale
Children's Literature and the English Novel, 1744-1859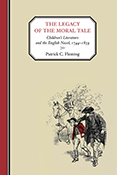 The moral tale was foremost among the new genres of children's literature that emerged in Britain during the late eighteenth and early nineteenth centuries. Written expressly to impart moral lessons to their young readers, such tales had a profound impact on the generation we now know as the Victorians, including such esteemed novelists as Charles Dickens, William Thackeray, and George Eliot.
In this original and discerning study, Patrick Fleming traces the rise and subsequent impact of the moral tale through the works of representative authors like Thomas Day, whose Sandford and Merton was a perennial best-seller, and Maria Edgeworth, whose stories Queen Victoria herself was reading on the eve of her coronation. We then see how the popular "Newgate novels" of the 1830s, a genre portraying the lives of criminals, adapted the moral tale's narrative conventions to guide readers' reactions to the characters' vices, and how Dickens, from Oliver Twist (1837) through such later writings as Hard Times (1854) and Great Expectations (1860), developed his own brand of experiential didacticism, which clearly had roots in the moral tales he read as a child. By 1859, Fleming shows, the impact of the moral tale began to decline amid growing skepticism over systematized education and as Darwinian theory complicated the link between experience and character.
Scholars studying Victorians' childhood reading have typically emphasized fairy tales and eighteenth-century novels rather than works especially written for children, while children's literature scholars have focused on the "Golden Age," which began around 1860 and is epitomized by such works as Lewis Carroll's Alice's Adventures in Wonderland (1865). However, as The Legacy of the Moral Tale makes clear,
children's literature began long before the Golden Age,and the moral tale was prominent among the genres the Victorians remembered. In revealing this long-overlooked connection, the book expands our understanding of the history of the novel and highlights the moral instruction to which nineteenth-century readers were accustomed.