The Great Smokies
From Natural Habitat to National Park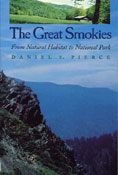 Seeking a taste of unspoiled wilderness, more than eight million people visit the Great Smoky Mountains National Park each year. Yet few probably realize what makes the park unusual: it was the result of efforts to reclaim wilderness rather than to protect undeveloped land.
The Smokies have, in fact, been a human habitat for 8,000 years, and that contact has molded the landscape as surely as natural forces have. In this book, Daniel S. Pierce examines land use in the Smokies over the centuries, describing the pageant of peoples who have inhabited these mountains and then focusing on the twentieth-century movement to create a national park.
Drawing on previously unexplored archival materials, Pierce presents the most balanced account available of the development of the park. He tells how park supporters set about raising money to buy the land—often from resistant timber companies—and describes the fierce infighting between wilderness advocates and tourism boosters over the shape the park would take. He also discloses the unfortunate human cost of the park's creation: the displacement of the area's inhabitants.
Pierce is especially insightful regarding the often-neglected history of the park since 1945. He looks at the problems caused by roadbuilding, tree blight, and air pollution that becomes trapped in the mountains' natural haze. He also provides astute assessments of the Cades Cove restoration, the Fontana Lake road construction, and other recent developments involving the park.
Full of outstanding photographs and boasting a breadth of coverage unmatched in other books of its kind, Great Smokies will help visitors better appreciate the wilderness experience they have sought. Pierce's account makes us more aware of humanity's long interaction with the land while capturing the spirit of those idealistic environmentalists who realized their vision to protect it.
The Author: Daniel S. Pierce teaches in the department of history and the humanities program at the University of North Carolina, Asheville, and is a contributor to The Tennessee Encyclopedia of History and Culture.