The Geology of the Carolinas
Carolina Geological Society Fiftieth Anniversary Volume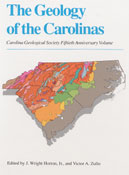 Author(s): Author J. Wright Horton, Jr., Contributor Victor A. Zullo
Series:
Imprint: Univ Tennessee Press
Publication Date: 1991-08-15
Status: Out of Print
Available in Hardcover - Cloth: Price $Array | Buy Now
Available in Paper: Price $Array | Buy Now
Available in Kindle: Price $Array | Buy Now
Available in PDF: Price $Array | Buy Now
To celebrate its fiftieth anniversary, the Carolina Geological Society invited forty-three authors to contribute to the creation of The Geology of the Carolinas.  The only comprehensive, modern treatment of the subject, the volume has been prepared for a diverse readership ranging from undergraduate students to specialists in the fields of geology and related earth sciences.
Following the editors' general introduction are chapters on Precambrian and Paleozoic metamorphic and igneous rocks of  the Appalachian Blue Ridge and Piedmont; rocks of early Mesozoic rift basins, formed just before the opening of the Atlantic Ocean; Cretaceous and Tertiary sedimentary deposits of the Atlantic Coastal Plain; Quaternary geology and geomorphology; Cenozoic tectonism, including evidence for the recurrence of large earthquakes near Charleston; and an overview of mineral resources in the Carolinas.  The book includes an index of field guides produced by the society and a thorough bibliography.By introducing exciting new concepts and focusing on challenging problems on the frontiers of research, this authoritative book will stimulate research in the years to come.
The Editors:  J. Wright Horton, Jr., is a research geologist for the United States Geological Survey in Reston, Virginia.
Victor A. Zullo is a professor of geology at the University of North Carolina at Wilmington.