The East Tennessee Veterans Memorial
A Pictorial History of the Names on the Wall, Their Service, and Their Sacrifice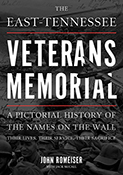 At the northern edge of the World's Fair Park in Knoxville, Tennessee, a striking set of thirty-two granite pylons stands as a monument to the tradition of military service in East Tennessee. The East Tennessee Veterans Memorial explores the creation and significance of this commemorative monument, providing a window into the lives and courageous actions of the more than 6,200 men and women whose names are inscribed on the sobering markers. In this book, author John Romeiser, with the assistance of Jack McCall, showcases the stories of over 300 service members and their families, documented with public records, obituaries, and family recollections. In these pages, readers will find the accounts of each of East Tennessee's 14 Medal of Honor recipients, along with tales of a variety of other veterans from World War I to the present, people whose lives and deaths together form a microcosm of the armed forces. Richly illustrated with historical photographs, this ambitious undertaking delivers not only a compelling history of individual lives but also a broader sense of military history in the region and a contribution to the scholarship on the value of monuments as a means to honor the past.
JOHN B. ROMEISER is professor emeritus of French and Francophone studies at the University of Tennessee, Knoxville. He is the author of Beachhead Don: Reporting the War from the European Theater, 1942–1945 and the editor of Combat Reporter: Don Whitehead's World War II Diary and Memoirs.
JACK H. MCCALL JR. is an attorney practicing law in Knoxville, Tennessee. He edited Pacific Time on Target: Memoirs of a Marine Artillery Officer, 1943–1945, and his articles have appeared in the Journal of Military History, MHQ: Military History Quarterly, American Journal of International Law, and Foreign Affairs.