The Dark Corner
A Novel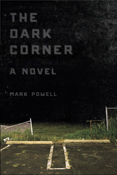 "The best Appalachian novelist of his generation."—Ron Rash, author of Serena and The Cove 
"The Dark Corner is one of the most riveting and beautifully written novels that I have ever read.  Trouble drives the story, as it does in all great fiction, but grace, that feeling of mercy that all men hunger for, is the ultimate subject, and that's just part of the reason that Mark Powell is one of America's most brilliant writers." —Donald Ray Pollock, author of The Devil All the Time and Knockemstiff 
"Mark Powell's third novel powerfully tackles the ongoing curses of drugs, real estate development, veterans' plights, and other regional cultural banes that plague an Appalachia still very much alive and with us as its own chameleon-like animal. Brimming with fury and beauty, The Dark Corner is a thing wrought to be feared and admired."—Casey Clabough, author of Confederado
"Powell's work is so clearly sourced to the wellspring of all spiritual understanding—this physical world…He is heir to the literary lineage of Melville, Conrad, Flannery O'Connor, Denis Johnson, and Robert Stone."—Pete Duval, author of Rear View
A troubled Episcopal priest and would-be activist, Malcolm Walker has failed twice over—first in an effort to shock his New England congregants out of their complacency and second in an attempt at suicide. Discharged from the hospital and haunted by images of the Iraq War and Abu Ghraib, he heads home to the mountains of northwestern South Carolina, the state's "dark corner," where a gathering storm of private grief and public rage awaits him.
Malcolm's life soon converges with people as damaged in their own ways as he is: his older brother, Dallas, a onetime college football star who has made a comfortable living in real-estate development but is now being drawn ever more deeply into an extremist militia; his dying father, Elijah, still plagued by traumatic memories of Vietnam and the death of his wife; and Jordan Taylor, a young, drug-addicted woman who is being ruthlessly exploited by Dallas's viperous business partner, Leighton Clatter. As Malcolm tries to restart his life, he enters into a relationship with Jordan that offers both of them fleeting glimpses of heaven, even as hellish realities continue to threaten them.
In The Dark Corner, Mark Powell confronts crucial issues currently shaping our culture: environmentalism and the disappearance of wild places, the crippling effects of wars past and present, drug abuse, and the rise of right-wing paranoia. With his skillful plotting, feel for place, and gift for creating complex and compelling characters, Powell evokes a world as vivid and immediate as the latest news cycle, while at the same time he offers a nuanced reflection on timeless themes of violence, longing, redemption, faith, and love.
MARK POWELL is the author of two previous novels published by the University of Tennessee Press, Prodigals and the Peter Taylor Prize–winning Blood Kin. The recipient of National Endowment for the Arts and Breadloaf Writers' Conference fellowships, as well as the Chaffin Award for fiction, he is an assistant professor of English at Stetson University.