The Civil War in Southern Appalachian Methodism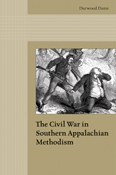 The Civil War in Southern Appalachian Methodism addresses a much-neglected topic in both Appalachian and Civil War history—the role of organized religion in the sectional strife and the war itself. Meticulously researched, well written, and full of fresh facts, this new book brings an original perspective to the study of the conflict and the region.
In many important respects, the actual Civil War that began in 1861 unveiled an internal civil war within the Holston Conference of the Methodist Episcopal Church, South—comprising churches in southwestern Virginia, eastern Tennessee, western North Carolina, and a small portion of northern Georgia—that had been waged surreptitiously for the previous five decades. This work examines the split within the Methodist Church that occurred with mounting tensions over the slavery question and the rise of the Confederacy. Specifically, it looks at how the church was changing from its early roots as a reform movement grounded in a strong local pastoral ministry to a church with a more intellectual, professionalized clergy that often identified with Southern secessionists.
The author has mined an exhaustive trove of primary sources, especially the extensive, yet often-overlooked minutes from frequent local and regional Methodist gatherings. He has also explored East Tennessee newspapers and other published works on the topic. The author's deep research into obscure church records and other resources results not only in a surprising interpretation of the division within the Methodist Church but also new insights into the roles of African Americans, women, and especially lay people and local clergy in the decades prior to the war and through its aftermath. In addition, Dunn presents important information about what the inner Civil War was like in East Tennessee, an area deeply divided between Union and Confederate sympathizers.
Students and scholars of religious history, southern history, and Appalachian studies will be enlightened by this volume and its bold new way of looking at the history of the Methodist Church and this part of the nation.