The Atomic Bomb and American Society
New Perspectives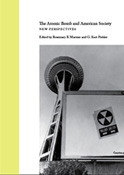 Author(s): Mariner, Rosemary B., and G. Kurt Piehler, eds.
Series:
Imprint: Univ Tennessee Press
Publication Date: 2009-03-01
Status: Active
Available in Hardcover - Cloth: Price $42.00 | Buy Now
Drawing on the latest research on the atomic bomb and its history, the contributors to this provocative collection of eighteen essays set out to answer two key questions: First, how did the atomic bomb,  a product of unprecedented technological innovation, rapid industrial-scale manufacturing, and unparalleled military deployment shape U.S. foreign policy, the communities of workers who produced it, and society as a whole? And second, how has American society's perception that the the bomb is a means of military deterrence in the Cold War era evolve under the influence of mass media, scientists, public intellectuals, and even the entertainment industry?
In answering these questions, The Atomic Bomb and American Society sheds light on the collaboration of science and the military in creating the bomb;the role of women working at Los Alamos; the transformation of nuclear physicists into public intellectuals as the reality of the bomb came into widespread consciousness; the revolutionary change in military strategy following the invention of the bomb and the development of Cold War ideology; the image of the bomb that was conveyed in the popular media; and the connection of the bomb to the commemoration of World War II.
As it illuminates the cultural, social, political, environmental, and historical effects of the creation of the atomic bomb, this volume contributes to our understanding of how democratic institutions can coexist with a technology that affects everyone, even if only a few are empowered to manage it.
Rosemary B. Mariner is formerly Joint Chiefs of Staff Chair and Professor of Military Studies for the National War College. She is currently a lecturer in history at the University of Tennessee, Knoxville.
G. Kurt Piehler is associate professor of history and former director of the Center for the Study of War and Society at the University of Tennessee, Knoxville, which hosted the conference that formed the basis of this volume. He is the author of Remembering War the American Way and World War II in the American Soldiers' Lives Series as well as the coeditor, with John Whiteclay Chambers II, of Major Problems in American Military History.