Tennessee-A Short History
Updated Through 1989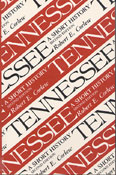 Author(s): Author Robert E. Corlew
Series:
Imprint: Univ Tennessee Press
Publication Date: 1990-10-23
Status: Out of Print Cancel
Available in Hardcover - Cloth: Price $Array | Buy Now
Available in Paper: Price $Array | Buy Now
Available in Kindle: Price $Array | Buy Now
Available in PDF: Price $Array | Buy Now
Tennessee has a fascinating history, animated by such colorful personalities as Daniel Boone, Davy Crockett, and Sam Houston, and many distinguished statesmen, three of whom have served as president of the United States.  All are portrayed in this carefully researched volume, which examines Tennessee's past and suggests new directions for the state's future.
An updated version of the 1981 edition, Tennessee: A Short History, traces the development of the Volunteer State from its beginnings to the present.  Starting with the prehistoric Indians, the author recounts the problems incident to statehood, deals with the traumatic developments of the nineteenth century, including the Civil War and its aftermath, and discusses the multiple changes in the social, cultural, political, and economic structure of Tennessee in the twentieth century.  This one-volume work will serve as a primary sourcebook for the state's history for many years to come.
Robert E. Corlew is recently retired as vice-president for academic affairs at Middle Tennessee State University, where his teaching focused upon the history of Tennessee.  He was coauthor, along with the late professors Stanley J. Folmsbee and Enoch L. Mitchell, of the two-volume History of Tennessee (1960), upon which the first edition of Tennessee: A Short History was based.