Teaching Olaudah Equiano's Narrative
Pedagogical Strategies and New Perspectives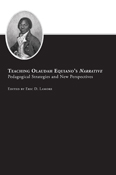 The Interesting Narrative of the Life of Olaudah Equiano, or Gustavus Vassa, the African.
Written by Himself (1789) is one of the most frequently and heatedly discussed texts in the canon of eighteenth-century transatlantic literature written in English. Equiano's Narrative contains an engrossing account of the author's experiences in Africa, the Americas, and Europe as he sought freedom from bondage and became a leading figure in the abolitionist movement. While scholars have approached this sophisticated work from diverse critical and historical/biographical perspectives, there has been, until now, little written about the ways in which it can be successfully taught in the twenty-first-century classroom.
In this collection of essays, most of them never before published, sixteen teacher-scholars focus explicitly on the various classroom contexts in which the Narrative can be assigned and various pedagogical strategies that can be used to help students understand the text and its complex cultural, intellectual, literary, and historical implications. The contributors explore topics ranging from the religious dimensions of Equiano's rhetoric and controversies about his origins, specifically whether he was actually born in Africa and endured the Middle Passage, to considerations of the Narrative's place in American Literature survey courses and how it can be productively compared to other texts, including captivity narratives and modern works of fiction. They not only suggest an array of innovative teaching models but also offer new readings of the work that have been overlooked in Equiano studies and Slavery studies. With these two dimensions, this volume will help ensure that conversations over Equiano's eighteenth-century autobiography remain relevant and engaging to today's students.
ERIC D. LAMORE is an assistant professor of English at the University of Puerto Rico at Mayagüez. A contributor to The Greenwood Encyclopedia of American Poets and Poetry, he is also the coeditor, with John C. Shields, of New Essays on Phillis Wheatley.