Sutton E. Griggs and the Struggle against White Supremacy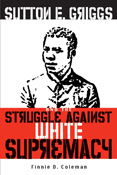 Author(s): Coleman, Finnie D.
Series:
Imprint: Univ Tennessee Press
Publication Date: 2007-06-15
Status: Active
Available in Hardcover - Cloth: Price $35.00 | Buy Now
Sutton E. Griggs (1872-1933) was a significant African American social reformer, pastor, and prolific writer. His successful first novel, Imperium in Imperio (1899), addressed in a forceful way the plight of Black Americans in post-Reconstruction America.
Using Griggs's life story as a platform, Sutton E. Griggs and the Struggle against White Supremacy explores how conservative pragmatism shaped the dynamics of race relations and racial politics during the late nineteenth and early twentieth centuries. More precisely, the book examines the various intellectual tactics that Griggs developed to combat white supremacy.
Author Finnie D. Coleman shows that Griggs was a pivotal shaper of a racial uplift philosophy that bore little relationship to more melioristic attempts at racial reconciliation. Coleman explores how Griggs's family-particularly his father-influenced his political ideology. Coleman examines why and how Griggs toyed with militant and at times violent fictional responses to white supremacy when his background and temperament were profoundly conservative and peaceful. Ultimately, Griggs yielded to his father's brand of pragmatic conservatism, but not before he produced a number of works of fiction and nonfiction that pushed the boundaries of what were acceptable reactions to the racial status quo of his day.
The author addresses other questions about Griggs's work: How did his fiction capture the generational differences between African Americans born in antebellum America and those who came of age at the end of the Gilded Age? Which rhetorical conventions proved effective against the ever-obdurate Jim Crow? Why have critical assessments of his works varied so greatly over the years? Most important, when compared with other writings of his day, why have his texts been so thoroughly marginalized?
This new volume adds to our understanding of Griggs's literary career and his role as one of the most widely read and selflessly dedicated intellectual leaders of his day.