Storming the Heights
A Guide to the Battle of Chattanooga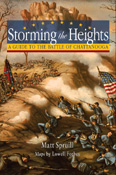 Author(s): Spruill, Matt
Series:
Imprint: Univ Tennessee Press
Publication Date: 2003-11-14
Status: Active
Available in Paper: Price $21.00 | Buy Now
"An outstanding guide…meets the needs of the serious students as well as the casual visitor."- Edwin Bearss, former chief historian of the National Park Service
In this guide, Matt Spruill recounts the story of the November 1863 battle of Chattanooga using official reports and observations by commanding officers in their own words. The book is organized in the format still used by the military on staff rides, allowing the reader to understand how the battle was fought and why leaders made the decisions they did.
Unlike other books on the battle of Chattanooga, this work guides the reader through the battlefield, allowing both visitor and armchair traveler to see the battle through the eyes of its participants. Numerous tour "stops" take the reader through the battles for Chattanooga: Wauhatchie, Lookout mountain, Orchard Knob, Missionary Ridge, and Ringgold Gap. With easy-to-follow instructions, extensive tactical maps, eyewitness accounts, and editorial analyses, the reader is transported to the center of the action. Storming the Heights offers new insights and covers key ground rarely seen by visitors to Chattanooga.
The Author: A retired army colonel, Matt Spruill served as a licensed battlefield guide for the national Park Service at Gettysburg Battlefield Military Park. He is the author of A Guide to the Battle of Chickamauga.