Stories of Nation
Fictions, Politics, and the American Experience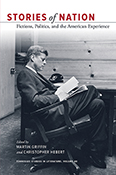 Author(s): Griffin, Martin and Christopher Hebert, eds.
Series: Tennessee Studies in Literature
Imprint: University of Tennessee Press
Publication Date: 2017-05-10
Status: Active
Available in Hardcover - Cloth: Price $60.00 | Buy Now
Throughout American history there has been an oddly close relationship between the seductive appeals of narrative fiction and those of political rhetoric and advocacy. The aim of Stories of Nation: Fictions, Politics, and the American Experience is to explore what political narratives and the cultural poetics behind them reveal about the way our personal and intimate lives are deeply connected with the public arena and the political process.
The first section of the book, "The Politics of Fictions," contains essays focused on works of fiction consciously dramatizing the political realm. The second group of contributions, "The Fictions of Politics," explores structures and motifs from the narrative arts in discourses of American political life, and the interactions of public institutions and policy with forms of fictional representation, from novels to popular music and TV drama.
The essays presented here broaden the conversation in American literary studies about what constitutes "the political" in literature and culture by reintroducing the dimension of institutional or representative politics. Likewise, Stories of Nation aims to repair the lines of communication between the idea that all fiction is political, and the view that political speech is a subgenre of literature all the more in need of examination in a highly polarized society.
The range of perspectives in Stories of Nation will engage students of literature, popular culture, and politics alike.
MARTIN GRIFFIN is an associate professor in the Department of English at the University of Tennessee. He is the author of Ashes of the Mind: War and Memory in Northern Literature, 1865–1900 (2009) and co-author, with Constance DeVereaux, of Narrative, Identity, and the Map of Cultural Policy: Once Upon a Time in a Globalized World (2013).
CHRISTOPHER HEBERT is an assistant professor in the Department of English at the University of Tennessee and is former senior acquisitions editor at the University of Michigan Press. He is the author of the novels Angels of Detroit (2016) and The Boiling Season (2012).