Southern Women Novelists and the Civil War
Trauma and Collective Memory in the American Literary Tradition since 1861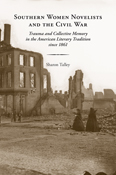 During and after the Civil War, southern women played a critical role in shaping the South's evolving collective memory by penning journals and diaries, historical accounts, memoirs,and literary interpretations of the war. While a few of these writings–most notably Mary Chesnut's diaries and Margaret Mitchell's novel, Gone with the Wind–have been studied in depth by numerous scholars, until now there has been no comprehensive examination of Civil War novels by southern women. In this welcome study, Sharon Talley explores works by fifteen such writers, illuminating the role that southern women played in fashioning cultural identity in the region.
Beginning with Augusta Jane Evans's Macaria and Sallie Rochester Ford's Raids and Romance of Morgan and His Men, which were published as the war still raged, Talley offers a chronological consideration of the novels with informative introductions for each time period. She examines Reconstruction works by Marion Harland, Mary Ann Cruse, and Rebecca Harding Davis, novels of the "Redeemed" South and the turn of the century by Mary Noailles Murfree, Ellen Glasgow, and Mary Johnston, and narratives by Evelyn Scott,Margaret Mitchell, and Caroline Gordon from the Modern period that spanned the two World Wars. Analysis of Margaret Walker's Jubilee (1966), the first critically acclaimed Civil War novel by an African American woman of the South, as well as other post-World War II works by Kaye Gibbons, Josephine Humphreys, and Alice Randall, offers a fitting conclusion to Talley's study by addressing the inaccuracies in the romantic myth of the Old South that Gone with the Wind most famously engraved on the nation's consciousness.
Informed by feminist, post structural, and cultural studies theory, Talley's close readings of these various novels ultimately refute the notion of a monolithic interpretation of the Civil War, presenting instead unique and diverse approaches to balancing "fact" and "fiction" in the long period of artistic production concerning this singular traumatic event in American history.
Sharon Talley, professor of English at Texas A&M University-Corpus Christi, is the author of Ambrose Bierce and the Dance of Death and Student Companion to Herman Melville. Her articles have appeared in American Imago, Journal of Men's Studies, and Nineteenth-Century Prose.