Southern Crossings
Poetry, Memory, and the Transcultural South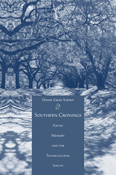 "Daniel Cross Turner has made a key contribution to the critical study and appreciation of the diverse field of contemporary Southern poetics. "Southern Crossings" crosses a gulf in contemporary poetry criticism while using the idea—or ideas, many and contrary—of "Southernness" to appraise poetries created from the profuse, tangled histories of the region. Turner's close readings are dynamic, even lyrical. He offers a new understanding of rhythm's central place in contemporary poetry while considering the work of fifteen poets. Through his focus on varied yet interwoven forms of cultural memory, Turner also shows that memory is not, in fact, passé. The way we remember has as much to say about our present as our past: memory is living, shifting, culturally formed and framed. This is a valuable and important book that entwines new visions of poetic forms with forms of regional remembrance and identity."—Natasha Trethewey, Pulitzer Prize winner and author of Native Guard: Poems
Offering new perspectives on a diversity of recent and still-practicing southern poets, from Robert Penn Warren and James Dickey to Betty Adcock, Charles Wright, Yusef Komunyakaa, Natasha Trethewey, and others, this study brilliantly illustrates poetry's value as a genre well suited to investigating historical conditions and the ways in which they are culturally assimilated and remembered.    Daniel Cross Turner sets the stage for his wide-ranging explorations with an introductory discussion of the famous Fugitive poets John Crowe Ransom, Allen Tate, and Donald Davidson and their vision of a "constant southerness" that included an emphasis on community and kinship, remembrance of the Civil War and its glorified pathos of defeat, and a distinctively southern (white) voice. Combining poetic theory with memory studies, he then shows how later poets, with their own unique forms of cultural remembrance, have reimagined and critiqued the idealized view of the South offered by the Fugitives. This more recent work reflects not just trauma and nostalgia but makes equally trenchant uses of the past, including historiophoty (the recording of history through visual images) and countermemory (resistant strains of cultural memory that disrupt official historical accounts). As Turner demonstrates, the range of poetries produced within and about the American South from the 1950s to the present helps us to recalibrate theories of collective remembrance on regional, national, and even transnational levels.
With its array of new insights on poets of considerable reputation—six of the writers discussed here have won at least one Pulitzer Prize for poetry—Southern Crossings makes a signal contribution to the study of not only modern poetics and literary theory but also of the U.S. South and its place in the larger world.
Daniel Cross Turner is an assistant professor of English at Coastal Carolina University. His articles, which focus on regional definition in national and global contexts and on aesthetic forms' potential to record historical transitions, appear in edited collections as well as journals including Genre, Mosaic, the Southern Literary Journal, the Southern Quarterly, and the Mississippi Quarterly.